What Is Fushion2D ?
– Fushion2D is interesting software. It will be the world's first software that truly allows anyone to create amazing games regardless of technical skill. Due to it's unique user interface, making games becomes a fluid process that doesn't require any scripting, programming or software design experience.
BECOME OUR FIRST BACKER
=Check it out on Indiegogo. Retweet, Share with friends & support us
https://www.indiegogo.com/projects/create-fun-games-with-fushion2d-android/
We will release Fushion2D in this systems : Windows, Mac, Linux
Export your Fushion2D projects to different platforms : Android, iOS, Windows Desktop, Windows Store, Amazon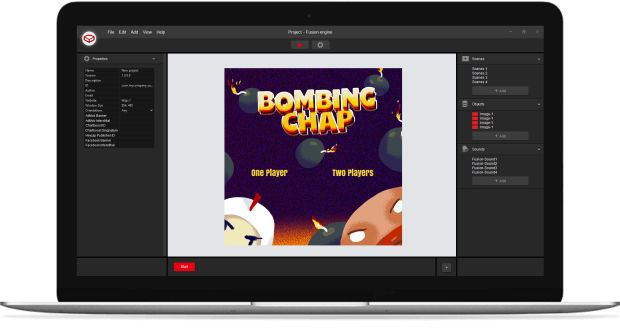 Fushion2D don't need third-party software to get your game in any kind of platform

Fushion2D support this Ads : AdMob, HeyZap, Facebook, Chartboost, AppLovin, RevMob
Who Is It For ?
– By design, Fushion2D is intuitive. Anyone can use it. Unlike any other game maker, you don't need to be a tech genius to use it. Simply put, Fushio2D It will be popular with anyone who loves games. We have many great artists, makers, indie gamers, entrepreneurs and thinkers want use our software. The two things they have in common are: They love video games and creating new things.

What is the Goal of Fushion2D ?
– The goal of the software was simple: to design the ultimate video game maker that allows anyone to make a video game. There is no coding or programming required. All the tools you need to complete your game is inside the software.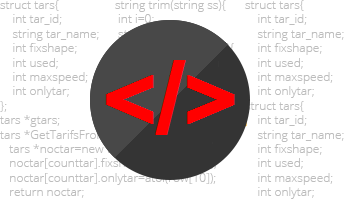 How Does It Work ?
– Creating games in our drag & drop software is as easy as making a PowerPoint presentation. It only takes a second to add a new character, enemy, object, platform, decoration, effect or background into your game, simply drag and drop the image into the level editor. You can also easily edit their properties if needed and test out the game throughout the entire process.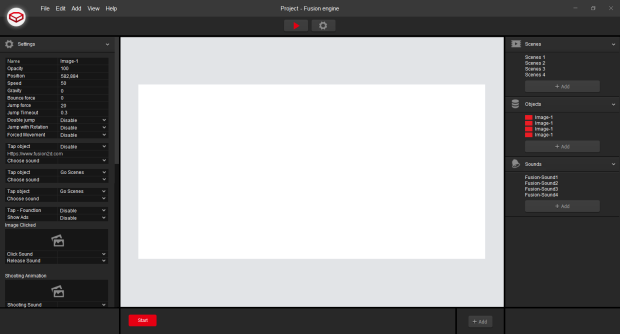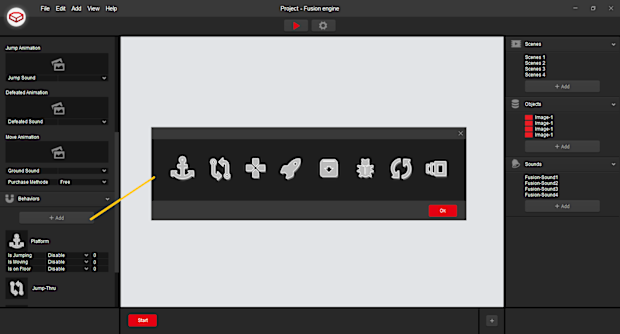 Platform behavior
The Platform behavior implements a side-view "jump and run" style movement. It supports slopes, moving platforms, "jump-thru" platforms, and arbitrary angles of gravity.
Jump-thru behavior
The Jump-thru behavior allows the Platform behavior to stand on the object, and jump on to it from underneath. This differs from the Solid behavior, which the Platform behavior can stand on, but not jump on to from underneath. The image below illustrates the difference.
8 Direction behavior
The 8 Direction behavior allows an object to be moved up, down, left, right and on diagonals, controlled by the arrow keys by default. It is often useful for controlling the player in a top-down view game. It can also be set to 4 directions or simple up/down or left/right movement which is useful for paddles or sliders.
Bullet behavior
The Bullet behavior simply moves an object forwards at an angle. However, it provides extra options like gravity and bouncing that allow it to also be used like a bouncing ball. Like the name suggests it is ideal for projectiles like bullets, but it is also useful for automatically controlling other types of objects like enemies which move forwards continuously.
Solid behavior
The Solid behavior makes other behaviors react to the object as if it were an impassable obstacle. Objects with this behavior are referred to as Solids. It affects the following behaviors:
8 Direction,which is blocked by Solids
Bullet, which can optionally bounce off Solids
Platform, which can land on Solids. Platform cannot jump on to solids from underneath – for this, use the Jump-thru behavior.
Pathfinding, which by default uses solids as path obstacles.
Enemy behavior
The Enemy behavior this is an object that will kill the character on contact, and can be killed by attacking it.
Rotate behavior
The Rotate behavior simply makes an object spin.
Shadow caster
The Shadow caster behavior marks an object as casting a shadow from a Shadow light object.
******
Why we need funding ?
Financial support will help us to establish the program in an orderly manner, where the program's budget will be divided into several milestones to developers.
Our Team : 3 Developers with +25 years experience in building softwares.
We are evaluated from https://www.embarcadero.com/fr/mvp-directory

Our Gaols
Goal 1 : 60.000 $ – release Fushion2D in this systems : Windows
Goal 2 : 85.000 $ – release Fushion2D in this systems : Windows, Mac
Goal 3 : 120.000 $ – release Fushion2D in this systems : Windows, Mac, Linux
Development schedule
Fushion2D will take from the start to the end about 12 – 15 months development.
Risks and challenges
We have been able to build a working prototype with basic functionality but it may require small changes for full software release. We will face more challenges and unforeseen product issues as we get closer to the release date. Every step in our development will be carefully selected to make this product even more special for our users.
We may need to make a few changes into the software design so the product can become more user friendly. This can cause the final product to be slightly different from our original prototype.
All of these factors can have an effect on release dates. We will work our hardest to achieve our set dates and deliver a product that both we and our investors are satisfied with.
We are looking forward with your great support because Fushion2D is different
We thank you from the deep of my heart because your support innovation and development. We promise and confidently provide the best and make available any person establishing distinctive game and shared with all of his friends and family.
Twitter : http://twitter.com/Fushion2D_Games
Facebook : http://www.facebook.com/ali.boukeroui.7
Please contact us if you have questions : fushion2d@gmail.com